Portfolio Strategy
Portfolio Strategy
MIRAI seeks to maximize investment opportunities by making full use of the strengths of sponsors Mitsui & Co. Group and IDERA in the real estate business and investing in diverse asset categories. MIRAI also aims to build a high-quality portfolio by selecting prime real estate from among numerous investment opportunities and selectively investing mainly in the three major metropolitan areas of Japan (Note 1). MIRAI ensures stability through portfolio operations centered on Core Assets, an area in which both sponsors have a proven track record. At the same time, it plans to incorporate Core-plus Assets and New Type Assets (Note 2) into the portfolio. IDERA has a competitive edge in Core-plus Assets, while Mitsui & Co. Group has a competitive edge in New Type Assets. Through this approach, MIRAI aims to achieve sustainable growth.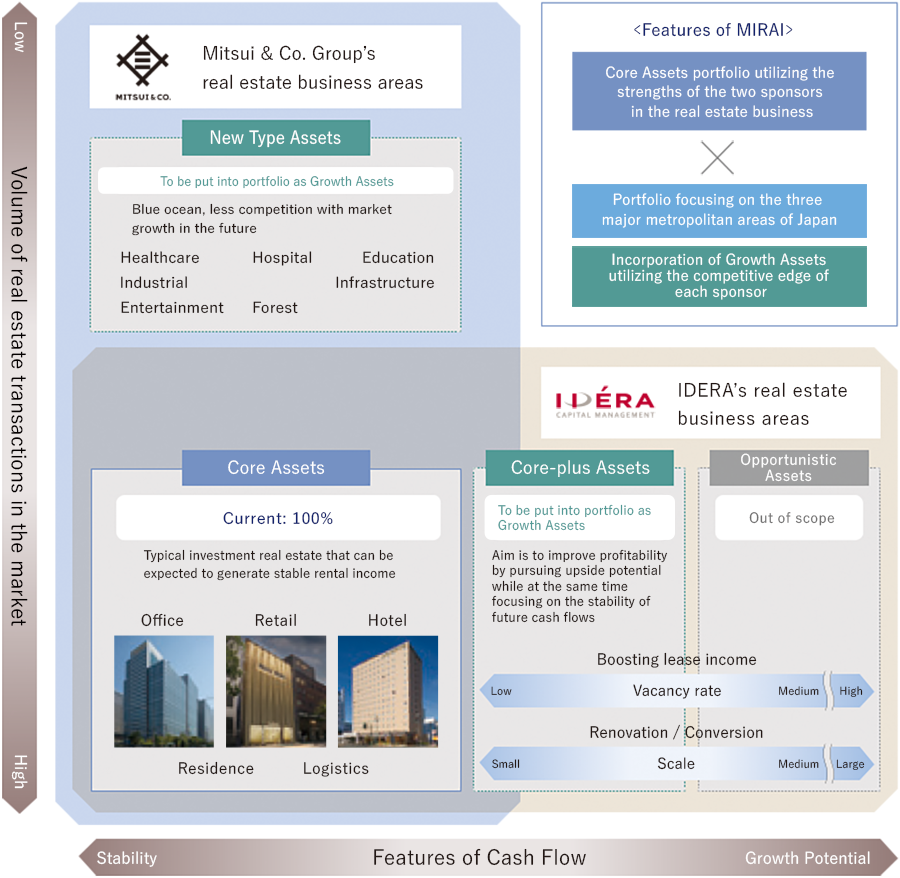 The three largest metropolitan regions of Japan are the regions of Tokyo (Tokyo, Kanagawa, Chiba and Saitama Prefectures), Osaka (Osaka, Kyoto, Hyogo, Nara, Wakayama and Shiga Prefectures) and Nagoya (Aichi, Mie and Gifu Prefectures). Hereinafter the same.

New Type Assets will be acquired upon development of the External Asset Manager's operating structure (or depending on the asset class, after laws and regulations etc. have been put in place).
Asset categories targeted for investment by MIRAI
While maintaining a portfolio consisting primarily of stable Core Assets, MIRAI will realize sustainable improvement in unitholders' value (DPU and NAV) by incorporating Core-plus Assets designed to improve profitability during the management period and New Type Assets with the potential for future market growth into the portfolio, thus gaining a competitive edge in the J-REIT sector.
Asset Category
Features
Current: 100%
Core Assets
Typical investment real estate such as office buildings, retail properties, hotels, residential properties and logistics properties that can be expected to generate stable rental income, for instance, an occupancy rate of more than 80% is ensured (or is expected to be ensured), in principle, are defined as Core Assets, and Core Assets are the asset category that form the basis of MIRAI's portfolio.
To be put into portfolio
Growth
Assets
Core-plus
Assets
Assets are defined as Core-plus Assets when the aim of their inclusion is to improve profitability by pursuing upside potential through means such as boosting lease income or completing small-scale renovation or conversion during the management period while at the same time focusing on the stability of future cash flows, and MIRAI will incorporate Core-plus Assets according to the growth stage.
New Type
assets
Assets are defined as New Type Assets when experience of investing in them and managing them is limited when compared to Core Assets; however, the competition to acquire them is minimal and they have the potential for market growth in the future, and MIRAI will incorporate New Type Assets according to the growth stage.
Focus of property acquisitions

When acquiring properties, MIRAI focuses mainly on the three criteria "location," "building" and "tenants," and pursues investment return and assesses investment risk in light of these criteria. MIRAI selected the office buildings, retail properties and hotels which formed Core Assets in the initial portfolio by focusing on the following:
Core Assets
Office Buildings
Large-sized office buildings

● Total office floor space of over 20,000 ㎡
● Strong location advantages, rarity of the property
● High spec of the facilities

Office Buildings
Mid-sized office buildings

● Total office floor space of between 3,000 and 20,000 ㎡ (depending on the size of the market such as population of work force however, property with total floor space below 3,000 ㎡ can also be acquired. )
● Volume zone in terms of number of properties and number of tenants
● New supply of properties with adequate facility spec is limited, and supply/demand environment is stable

Retail properties
Urban retail properties

● Located close to a terminal station and in a good urban location with easy access
● Luxury brand stores and facilities offering goods and services based on the latest consumer trends

Retail properties
Community-based retail properties

● Located in a daily living area where there is firm demand from the neighboring regions and an established trade area
● Provide daily necessities to meet daily needs

Hotels
Budget hotels

● Located near areas that attract customers such as in front of stations, airports, tourist destinations, business districts and busy shopping streets, and strategic points for transportation such as terminal stations and expressway interchanges
● Hotels that mainly provide accommodation with limited or minimal adjoining facilities

Hotels
Resort hotels

● Located near tourist destinations, scenic places and leisure facilities
● Hotels with comparatively comfortable accommodation facilities and diverse adjoining facilities such as restaurants, banqueting halls, conference rooms, and sports facilities

Hotels
Full-service hotels

● Located in areas that attract customers such as in front of stations, airports, tourist destinations, business districts and busy shopping streets, large metropolitan regions, cities that are government-ordinance-designated cities or the locations of prefectural capitals, etc., or urban and suburban areas
● Hotels that have adjoining facilities such as restaurants and bars, banqueting halls, and conference rooms in addition to accommodation facilities and that offer a full line-up of services