Participation in Initiatives
PFA21(Principles for Financial Action for the 21st Century)
"PFA21" is a set of action guidelines for Japanese financial institutions that summarizes the responsibilities and roles necessary for the formation of a sustainable society.
Mitsui Bussann & IDERA Partners Co., Ltd. (hereinafter the "Asset Manager"), the asset management company of MIRAI, is a signatory to "PFA21" and aims to conduct responsible investment management through business activities that are consistent with the Principles.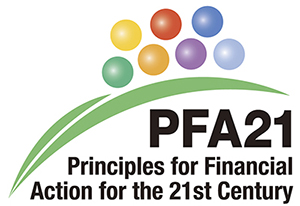 TOKYO Work-Style Reform Declaration
"TOKYO Work-Style Reform Declaration" is a program operated by the Tokyo Metropolitan Government, sets and announces targets and details of measures to be taken to reduce long working hours and promote the use of annual paid leave and other benefits. The Asset Manager registered for this program in September 2020 in order to improve the work-life balance of its employees.
Please refer to the link for details of the Asset Manager's Declaration.