Participation in Initiatives
PFA21(Principles for Financial Action for the 21st Century)
"PFA21" is a set of action guidelines for Japanese financial institutions that summarizes the responsibilities and roles necessary for the formation of a sustainable society.
Mitsui Bussann & IDERA Partners Co., Ltd. (hereinafter the "Asset Manager"), the asset management company of MIRAI, is a signatory to "PFA21" and aims to conduct responsible investment management through business activities that are consistent with the Principles.
[Principle 1] Basic posture

Recognizing the responsibilities and roles that financial institutions themselves play for the formation of a sustainable society, we aim to create positive impacts on the environment, society and economy, and mitigate negative impacts. Take the initiative in practicing these efforts.

[Principle 2] Contribution to a sustainable global society

We will lead the formation of a sustainable global society by developing and providing financial products and services that contribute to the creation and development of industries and businesses through innovation, toward steady and fair transitions in society.

[Principle 3] Contribution to the formation of sustainable communities】

We will support the solution of environmental, social and economic issues based on regional characteristics, and lead the formation of sustainable local communities by improving the inclusiveness and resilience of the region.

[Principle 4] Human resource development

Recognize the importance of human capital in financial institutions, and develop human resources who can think for themselves and take action on environmental and social issues.

[Principle 5] Collaboration with various stakeholders

Recognizing the importance of cooperation among various stakeholders, including financial institutions, in order to form a sustainable society, we not only participate in such efforts but also play an active role.

[Principle 6] Building a sustainable supply chain

Actively tackle environmental issues such as global warming and biodiversity and social issues such as human rights, and build a sustainable supply chain through constructive engagement with business partners including investment and loan partners.

[Principle 7] Information disclosure

Recognizing that activities to enhance the sustainability of society are management issues, we will disclose our efforts to a wide range of stakeholders and make constant improvements based on domestic and international trends and disclosure frameworks.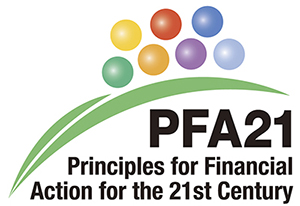 TOKYO Work-Style Reform Declaration
"TOKYO Work-Style Reform Declaration" is a program operated by the Tokyo Metropolitan Government, sets and announces targets and details of measures to be taken to reduce long working hours and promote the use of annual paid leave and other benefits. The Asset Manager registered for this program in September 2020 in order to improve the work-life balance of its employees.
Please refer to the link for details of the Asset Manager's Declaration.